A wedding is a solemn ceremony in which two people decide to join their lives and get married. It is perceived differently in different cultures and customs and traditions may also differ. However, one of the main meanings of a wedding is the celebration of love and the union of two people in marriage.
A wedding can be either civil or church - each of them has its own specifics and traditions.
Civil ceremony
A civil wedding is a wedding ceremony that takes place outside of a church or other religious institution and is performed before a citizenship officer. This type of wedding has become increasingly popular in recent years, mainly because many people feel less connected to religious institutions, or want to avoid the high costs and extensive wedding preparations associated with traditional church weddings.
A civil wedding can be very simple and intimate, or, on the contrary, spectacular and festive according to the wishes of the engaged couple. It is usually held in the premises of the registry office or in another suitable place, such as castles, garden restaurants, or beautiful beaches.
Church ceremony
A church wedding is a traditional way of getting married before God and a church priest or clergyman. It is a ceremony that takes place in a church or other ecclesiastical institution and includes specific elements according to the tradition of that church
This type of wedding is usually very formal and has fixed rules and rituals - such as the exchange of wedding vows and rings, consecration of the rings and the saying of blessings. Each church has its own traditions and rules for marriage, so they can differ among themselves. So if you are planning a church wedding, you should first find out what the requirements and rules of your church are and consult with a clergyman or priest.
Wedding day
A wedding day is the day when a wedding takes place, that is, a solemn ceremony in which two people are united in marriage. For newlyweds, it is one of the most important days in their lives.
This festive day can be very hectic and filled with preparations for the newlyweds and their families. On the day of the wedding, the newlyweds usually dress in their wedding clothes and then go to the place where the ceremony will take place.
After the ceremony, there is usually a festive feast during which there is eating, drinking and dancing. It is a time when newlyweds can rejoice in their new life together and share their love with family and friends.
It is important for the newlyweds to remember that the wedding day is just one day and that what follows is important - a life together in marriage.
Wedding dress
The wedding dress is the traditional, mostly white, garment of every bride. The color white symbolizes purity and innocence, and is the traditional color of wedding dresses in many countries around the world.
They can vary depending on the fashion trends, style and culture of the place. They are usually made of light and airy materials such as silk, satin or tulle. They are usually decorated with lace, pearls, rhinestones or other decorations.
In Western culture, the bride's dress is often long, white, with long sleeves and a simple but elegant design. However, fashion trends are constantly changing and many brides choose dresses that differ from the traditional style, such as short dresses or dresses in different colors. We can offer you brocade, which will add luxury and a modern look to your wedding dress.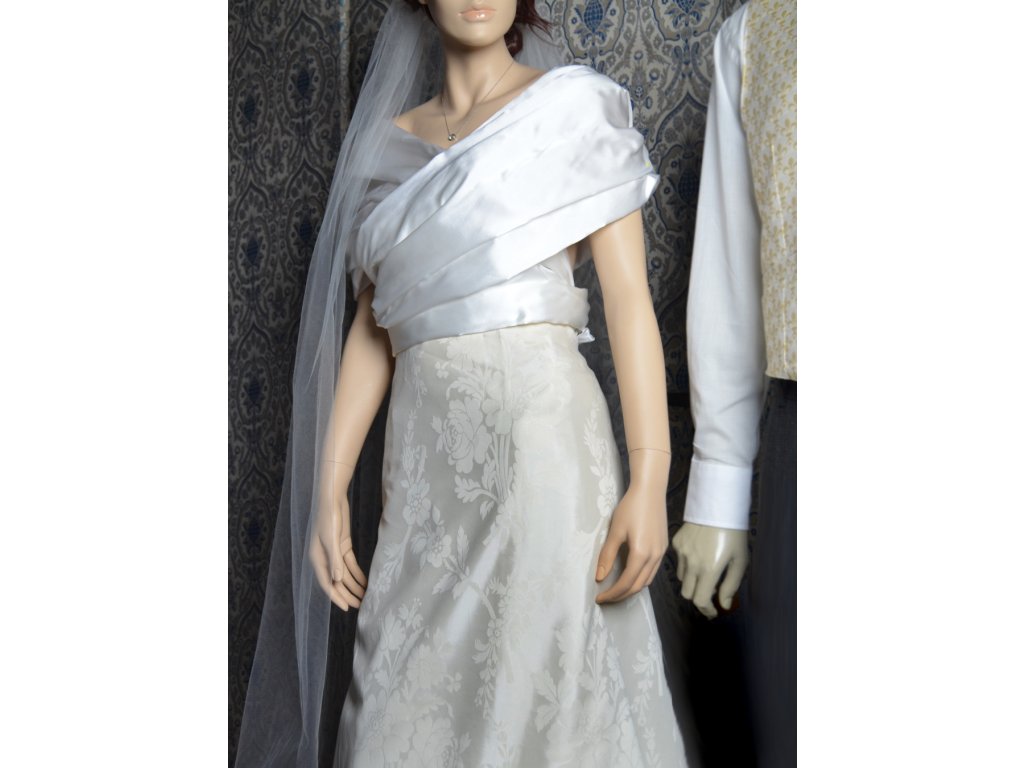 In some countries and cultures, wedding dresses have their own traditional styles and meanings. For example, in India they are often very colorful and decorated with heavy ornaments, while in the Chinese tradition, the traditional dress is red, which symbolizes luck and prosperity.
The wedding dress is one of the most important elements of the wedding day and the bride chooses it with great care to feel beautiful and comfortable.