Blue color is, according to psychologists, the color of peace, harmony and satisfaction. It symbolizes tenderness, loyalty, devotion and tradition. For these reasons as well, it is a color widely used in interiors and on clothing. In the article, we have prepared for you a sample of new, blue, brocades that have a long history, as well as information and photos from Loučeň Castle, with which we recently collaborated.
LOUČEŇ Castle
Loučeň Castle is a baroque building with original interiors. It is surrounded by an extensive English park and a set of 12 mazes with labyrinths, the tours take place mainly in period costumes. All exhibitions are focused on the most important information about the families of Valdštejn, Fürstenberk and Thurn-Taxis.
The possibility of accommodation in the castle hotel is unique. The largest apartment is the so-called Apartment Valdštejn. It is named after the Valdštejn family, who built the castle at the beginning of the 18th century. The entire apartment underwent repairs, to which we had the honor to supply our luxurious, blue, brocades.
Reconstructed Apartment Valdštejn
"Five-leaf rose with a crown" or the brocade of St. Markets
Brocade that allows its owner to go back in time, specifically to the Tudor period. Historically, the pattern of the rose with the crown was called St. Margaret's brocade - from which it follows that it is a liturgical type of fabric. The rose was an early Christian symbol. It became sought after and popular during the 15th century, due to the adaptation of adherents of the Houses of York and Lancaster. Both families were involved in the so-called War of the Roses - a civil war in England and Wales.
St. Margaret's brocade is suitable for creating period costumes, historical clothing, home interiors, gowns, and also theater costumes due to the accuracy of the fabric's motif.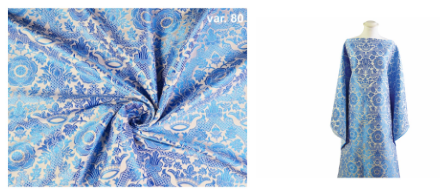 Brocade from the Tudor period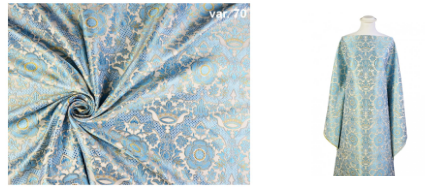 Liturgical pattern "Cross in a square"
The brocade was patterned based on the requirement of the Orthodox Church. We classify it in the Middle Ages, but it was also widely used in the 19th century.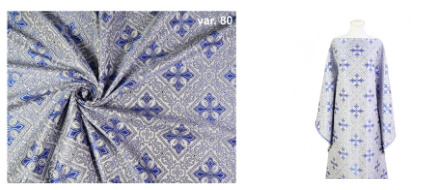 Liturgical pattern