Geometric patterns are a trend that will not get boring. If you want to reach for timeless classics, which appear in fashion and interiors regularly, you can choose a new chevron pattern, also known as the fishbone.
Geometric patterns in the interior
| | |
| --- | --- |
| | No matter what style the apartment is tuned to, there is no need to worry about the geometric pattern. It can be used in modern spaces as well as in an interestingly designed retro or ethnice style. When decorating an apartment, it is not necessary to choose only floral or neutral patterns, geometric patterns are still trendy. |
It is important not to mix the patterns
When it comes to mixing with other motifs, you need to hold back with geometric patterns. The pattern is the most effective and stands out the most through a monochrome background and furniture. In this way, the geometric pattern will be unique and effective. It is a great in combination with timeless graphics or works of modern art. It perfectly meets aesthetic demands with one attractive accessory in the room.
The classic pattern is chevron
Chevron, better known this country as fishbone, is a classic that is once again becoming a trend. It is a zigzag pattern, which usually alternates two more pronounced, different, colors. Multiple colors can be combined, but the zigzag must be maintained.
Chevron is an unmistakable and timeless pattern. To decorate the interior, it is enough to decorate part of the room with an accessory in a zigzag design - a curtain, part of the wall, carpet runner, etc.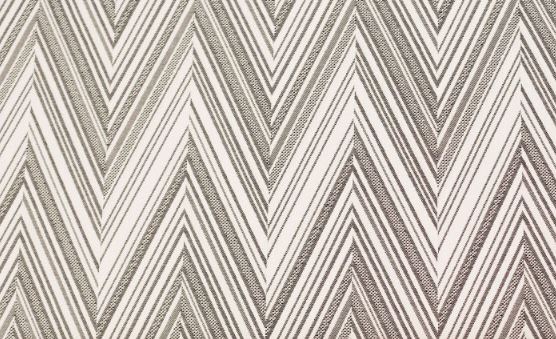 Strip or polka dot?
A classic of all classics is a stripe. The stripe has held a privileged position in design for many years. Designers and fashion designers know very well how to use it. It is fresh, youthful, the interior is perfectly enlivened, it gives it lightness and a parkle. The stripe can be a great means, deceive us if you need to optically expand the apartment, using horizontal stripes. Vertical stripes will be used to extend the walls.
Polka dot is cheerful and playful. When chosen the right size and combination, it can create an elegant touch of retro. It is best suited for decorating.
Geometric patterns in fashion
Geometric patterns were always IN. If you buy any piece of clothing in this timeless style one year, you can be sure that the next year it will still be just as trendy. They have been at the top for several seasons and it is more than certain that they will not just go out of fashion. Designers come year after year with new designs that will liven up any wardrobe.
Geometric shapes can help women elegantly cover up some of the shortcomings. For men, they can be a timeless revival. Great brocades combined with timeless shapes are a clear choice for anyone who would like to liven up their wardrobe.